new boat project
For the past forty years we have been taking people out on the Hamble River in canoes, kayaks and wheelchair accessible motorboats.  In recent years demand for accessible boating has increased and we have been lucky to have two motorboats available. However during 2020 we had to put our old boat out to pasture (we sent it to a farm in Wales, you know, the one where all our old pets went to).
Our newest boat is still going strong, a Wheelyboat named in honour of James Male, whose parents raised the funds (alongside the Wheelyboat Trust) in memory of their son who was lost at sea.  But we need a second boat – and it's on its way!   One that is a bit larger and is accessible from our jetty; fitted out the way we want it, building on our years of experience.
We are working with Buckley Yacht Designs and CML at Marchwood on the new boat and our aim is to have it on the water during June 2021.  This is an optimistic target but we're nothing if not optimistic!
We were optimistic with our fundraising target too – £40,000 – but thanks to the support of a lot of people we did it!  We have to thank some grant making trusts for their generosity: The Gerald Micklem Trust, the Bernard Sunley Foundation, the Bruce Wake Charitable Trust and the Worshipful Company of Shipwrights all contributed.
A big chunk of the funding came from the people who use QE2 Activity Centre day services and their families and friends. They took part in a sponsored walk from QE2 to Timbuktu – unfortunately we couldn't actually go to Timbuktu because of Covid restrictions, but between us we walked 5,000 kilometres, the distance from the River Hamble Country Park to Mali.  Well done to everyone who took part – and everyone who sponsored them. Honourable mention to Zoe and her family, but thanks to everyone.
Over the last two years four people who were very important to the establishment and development of the Centre passed away and we have received donations and bequests in memory of those people. These donations have helped us to reach our target so I, personally, want to thank the families of those concerned for allowing the funds to be put towards our new boat.  First of all, Godfrey Olson, OBE, who was Mayor of Eastleigh in 1976 and initiated the process which resulted in the QE2 Activity Centre. As Mayor he invited local people to propose how Eastleigh should commemorate the Queen's Silver Jubilee in 1977. The suggestion of an activity centre for people with disabilities was put forward, accepted and Godfrey Olson, as Chairman of the Appeal Committee and then Chair of the Centre's Management Committee steered the direction the centre took for the next three decades.
When the Centre opened in March 1978 one of the first volunteers was Caroline Oates (nee Agassiz). She continued to volunteer until, in 1987, she started working at QE2 Activity Centre as Secretary, a role she carried out for thirty years until 2017 when she was diagnosed with breast cancer. Caroline died in October 2019. She is much missed.
Another volunteer was Helga Baker who, with her husband Ted, ran the Centre's Friday Club from 1997 onwards. Helga's commitment to doing the best for the Club's members, including organising holidays, trips and visits was second to none.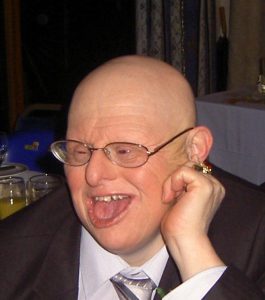 We are going to name the boat Peter Gardiner.  At that public meeting called by Godfrey Olson as Mayor, the proposal for the Centre came from Chris Gardiner, a former army PT instructor, who had also run a sailing school at Hamble, and was responsible for water-based activities at Fairthorne Manor in the 1960s.
His son, Peter, was born with Downs Syndrome, but Chris did not see that as a reason to exclude him from family activities including sailing, horse-riding and camping.  It was the pleasure and personal growth that Chris saw in Peter's participation that inspired the idea for a centre dedicated to providing activities for people with disabilities; activities that may be taken for granted by many but were impossible to access, at that time, for many people with disabilities.
Forty years later the Centre has grown to become one of the leading centres in the country dedicated to providing activity opportunities for people with additional needs. There have been changes  but at its heart the guiding principle remains enabling people, looking beyond the disability and giving opportunities to achieve.
Sadly, Peter passed away in February, another victim of Covid, much missed by all who knew him.  Naming the boat Peter Gardiner will be a fitting tribute and will make sure he will be remembered for years to come.
donate here