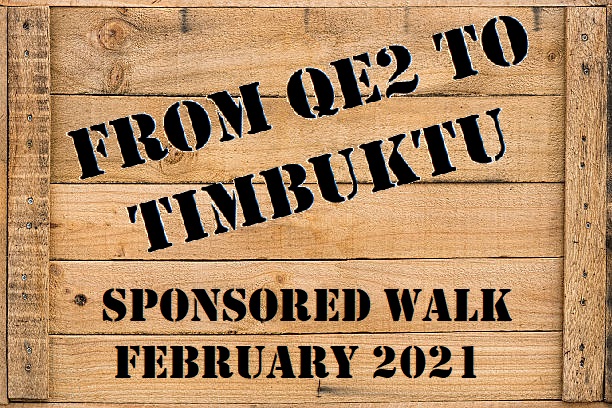 For the past forty years QE2 Activity Centre has been taking people out on the Hamble River in canoes, kayaks and wheelchair accessible motorboats. In recent years demand for accessible boating has increased and we have been lucky to have two motorboats available. However the older of the two needs replacing and we'd like your help!
We aim to have the new boat on the water by April 2021. This is an optimistic target but we're nothing if not optimistic! Our overall fundraising target is £40,000 and we'd like you to get involved. We are looking for teams and individuals who would like to join our 2021 Challenge –
From QE2 to Timbuktu!
Of course with travel restrictions and everything else going on we can't actually go to Timbuktu but we can walk the 5000 kilometres to get there. And that's where you come in. We're looking for people to help pile on the steps, with a target of 5,000 kilometres to walk and £40,000 to raise. Did I say walk? You can walk, run, wheel, skate or cycle. And don't forget we have to cross the Channel and Mediterranean, so we are looking for people to canoe, kayak, paddleboard or swim too – and be sponsored to do it.
5,000 km as the African Swallow flies
From QE2 to Timbuktu is 5,000 km as the African Swallow flies. If we all walked (or cycled or swam or roller-skated or canoed) a section of we could do it in no time! We've set aside the month of February 2021 to do it.
We want you to help us walk from QE2 to Timbuktu.
Be part of Team QE2
We want a sustained effort – we want you to do a bit every day during February 2021. Exercise is more effective when it is repeated so we want to encourage people to get into the habit of doing more regular exercise. We'll tot up the miles each day and plot how far we've gone. Don't worry if we do too many miles – we have to get back too! The more people that are involved the further we'll go and the more we'll raise.
Obviously, you don't have to walk 5,000 km on your own; this is about Team QE2. And everyone can be part of the team. You can sign up as an individual and single-handedly make a difference or you can enter as a group, whether it is a family, a class, an office, a group of friends or a club. That way you can support each other and go even further.
Set your own target
We would like you to set yourself a walking target and a fundraising target. Let us know both to help us with our monitoring.
Challenge yourself
You don't need to do it all at once – if you walked a kilometre a day every day for 25 days that would be 25 kilometres, that's from here to the Portsmouth Ferry terminal! That's a start!
We would like to see you do a bit every day – or every few days – during the month of February, not all in one go.
We want to encourage everyone to challenge themselves, to set their own target of how far they are going to travel during the month – and day by day reach that target.
If you're a serious runner, cyclist or paddler you might want to set yourself a big target. Consider it part of your training for 2021.
Every time you do some exercise it counts – whether it is going for a run or walking to the shop.
Why Timbuktu? Because it rhymes!