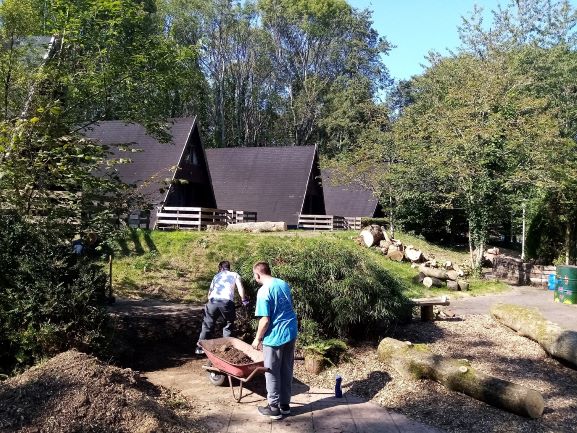 Getting ready to come back to QE2

When you return, things are going to be a bit different.
Bubbles
For the time being it is best not to spend time with too many people.
That is why we are going to have three "bubbles", or groups, which each have a hub (a building) and a zone (some outdoor space).
We don't want everybody arriving at once so we are going to stagger our starting and finishing times.
GreenHouse will open at 9:30 and close at 3:30
GreenHouse bubble will be based in the GreenHouse building. This includes activity room, kitchen and toilets. They will also be working in the allotment, in the yard and workshop. There will be up to eight group members and two staff.
Blue will open at 9:45 and close at 3:45
Blue Group will be based in the cabins. They are going to be responsible for looking after all the gardens at the top, including the pond and Jubilee Garden. There will be up to eight group members and two staff.
Gold will open at 10:00 and close at 4:00
Gold will be in the Gold building. As well as their building, including kitchen, Changing Places toilet and Sensory Room, they will have an outside seating area and a garden area. There will be up to six group members and two staff
·
Staying healthy
Before you come back there are some things you can do to help yourself, your friends and our staff to stay safe.
· Stay fit! Eating properly and exercising will help your body stay strong.
· Keep hydrated – that means drinking lots of water, throughout the day.
· Good hygiene – lots of handwashing and a shower and clean clothes when you come to day service.
·
When you come back:
Don't bring anything into the Centre that you don't need that day.
Do bring a bottle of water
Do bring a healthy packed lunch.
·
Arriving at QE2 Activity Centre
When you get here in the morning things are going to be a bit different.
If you have a fever or a persistent cough you shouldn't come in.
If anyone who lives in your house has a fever of a persistent cough you shouldn't come in.
We need to make sure everybody is well when they arrive, so when you get here in your car or taxi we'll ask you to wait until one of our staff is ready for you.
We'll check that you don't have a fever by using a thermometer and we'll ask how you are.
·
Before you go into your hub we'll give you some hand sanitiser.
When everyone is in we'll start the day with a meeting to talk about
· what we're going to do and how we're going to do it
· why we need to give people more personal space than usual
· why we need to wash our hands so often
· what we need to do if we cough or sneeze
· why we need to stay alert
·
Activities
We want to do all the things we used to – but the way that we do some things is going to have to change
We are going to do more outside. Each group will have an outside area that is just for them.
We'll need to wash our hands before and after activities (as well as after going to the toilet and before eating and drinking).
We are going to have smaller groups, we're going to have sit further apart.
We're not going to be able share things as much as before. If we are going to use something that someone else has used then it will need to be disinfected.
We will all have to get used to disinfecting stuff.
Sometimes staff (and some of your friends) will be wearing face coverings. You can too if you want to.
All of these changes are to keep you, other group members and our staff safe.
·
Risk Assessments
We have looked at the way we do our activities and the areas that we do them in. We have carried out risk assessments and identified where difficulties might arise. We have taken steps to minimise those risks by
· learning about the virus and about infection control
· making sure all the buildings we will be using are clean
· having cleaning materials in stock so that we can keep everything clean throughout the day
· removing unnecessary clutter
· planning our re-opening so that we have small groups with their own areas and timetables
· planning activities so that we can work outside and respecting other people's space
· planning activities so that if we work inside we can socially distance
· providing washrooms and hand sanitiser
· providing PPE (like face coverings, gloves and aprons)
·
We are also
· passing on what we have learned to our users – that's you! – you have an important part to play in keeping us all safe
· providing information, through posters, visual aids and talking about it, to make sure everyone stays safe
See you soon!